Setting the Standard for
Landscaping Companies in Pittsburgh, Pennsylvania
Expert Landscape Design, Installation, and Maintenance
for Discerning Clients
Since 2014, Local Roots Landscaping has been providing turn-key landscaping solutions for clients throughout Pittsburgh. With extensive industry certifications, training, and experience, we enhance your daily life and increase your property value with customized landscape design, installation, and maintenance. From outdoor kitchens, patios, and pergolas to driveways, retaining walls, and eco-friendly lawn care, our family-friendly spaces are built to last.
With the deep local roots that inspired our name, Pittsburgh is home. We're proud to offer reliable, friendly service throughout the city. Contact us to learn more or get started on your project.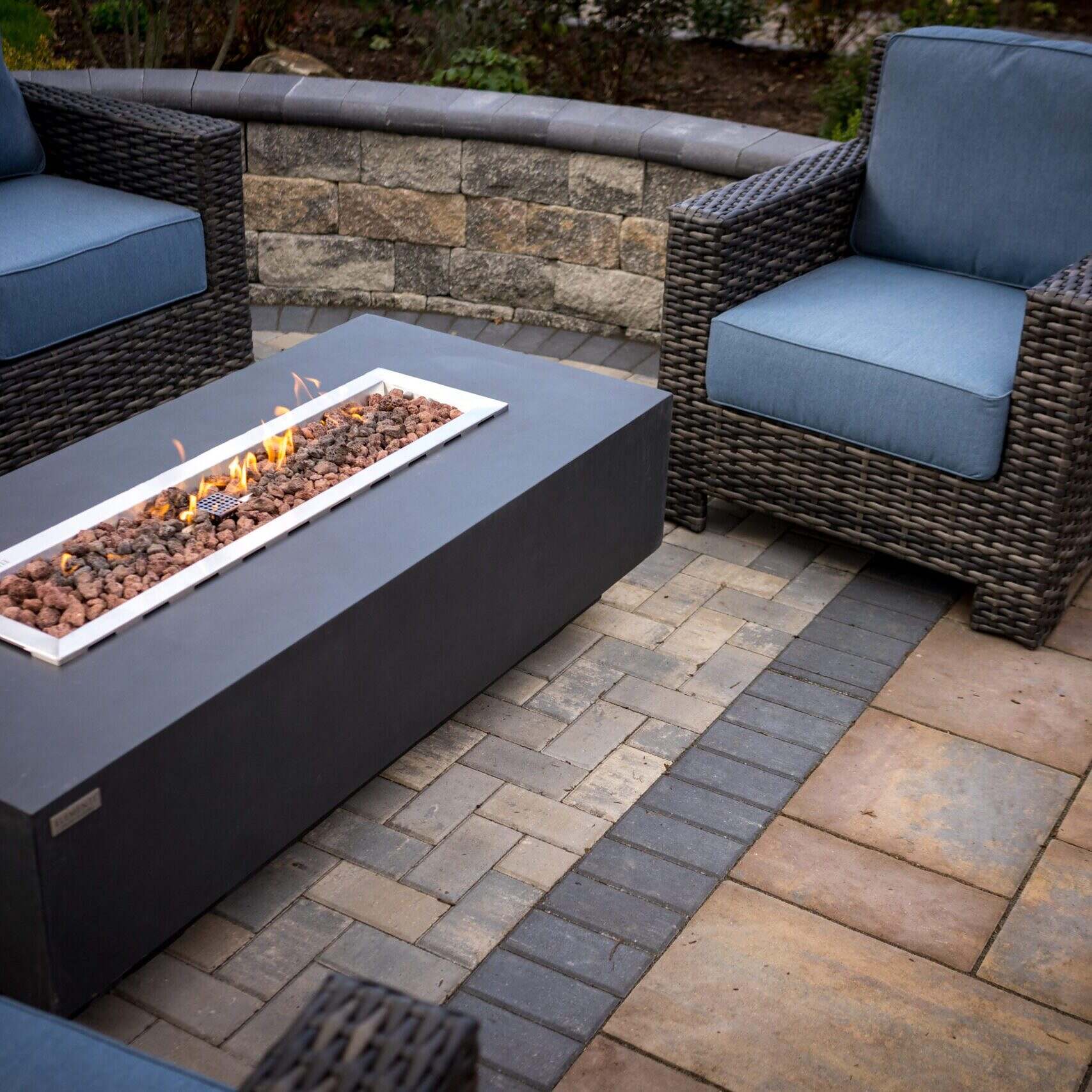 Why Choose
Local Roots Landscaping
With years of experience and industry certifications which include Certified Interlocking Concrete Paver Installer (ICPI) Level 1 and 2 Installer certificates, National Concrete Management Association, and Sustainable Landcare Accreditation from Phipps Conservatory, we create award-winning landscapes to beautify Pittsburgh and bring joy to the people who live here. Our work speaks for itself, but fine craftsmanship isn't the only thing that sets us apart among landscaping companies:
As the highest-rated and most-reviewed landscaping company in Southwestern Pennsylvania, we have a long list of clients who love their landscaping. We've worked hard to establish our reputation as highly skilled landscaping professionals who offer an enjoyable client experience from start to finish.
Pittsburgh is our home, and we love this city. We're proud to contribute to it by creating beautiful outdoor spaces, but we don't stop there. As a local business, we feel it's important to support local nonprofits that do incredible work in the community, and we're committed to donating $1,000 every month to an organization or a project that's making a positive difference here.
We're known for our work in Pittsburgh—and we're known among landscapers as a great place to work. Our employees are the highest-paid industry professionals in our area. It's simple: content, valued employees work hard for our clients, and we're happy to care for our team the same way we care for you and your landscaping.
Our close-knit team brings together years of training and experience in horticulture, woodworking, masonry, and more. That experience combines with a passion for beautiful landscapes and a job well done, and together we're creating world-class landscapes right here in Pittsburgh. 
Many of us, including our founders, are Pittsburgh natives, and others have lived in the area for years. Our love for Southwestern Pennsylvania shines through in every thoughtful planting and well-crafted hardscape. We love to spend time outside, too, and creating the beautiful spaces that help others do that is its own reward. 
Visit our about page to learn more about our team.
Our Clients Tell It Like It Is
We're proud to be the most-reviewed and highest-rated landscaping company in the area, but it makes us happiest to know that's because our clients truly love the work we do for them. Read what they have to say about their landscaping:
My experience with Local Roots was great from the first design consultation through the completion of my backyard retreat. I had a small backyard that was challenged by a steep hill. The team was able to install a beautiful, two tiered retaining wall that provided enough space for a dream patio and all-season plunge pool. Thanks for making the unbelievable come true for me!
- Ken Kmetz
Kenneth and his crew went above and beyond to satisfy the requests we had for our backyard hardscape. Professional from beginning to end! Greg and his team did masterful paving work - clean lines, improved the grades and left our place looking great! We will enjoy our yard for years to come.... These guys are top notch and I will hire them again!
- Mark Yocca
Local Roots did an excellent job on our back patio renovation. They stepped up when our prior general contractor fell through and left the project in disarray. They were able to complete all the remaining work, and work with subcontractors as needed. The end result looks awesome and we would definitely recommend them to our friends.
- Brian Pollack
I was extremely satisfied with the two landscape jobs completed by Local Roots for my city property in Lawrenceville. Ken did a fabulous job with the design and was very responsive to my ideas and questions regarding plant choices. The projects involved removal of old hardscape as well as very old, overgrown plantings. The workers were extremely professional and completed the work in a timely fashion. Wouldn't hesitate to use Local Roots services again!
- Michele Evans
Local Roots is extremely professional and has great quality. All of their crews are friendly and helpful and clearly take pride in their work.
- David Riehl
Local Roots is absolutely incredible! I would trust them with any and all landscaping and hardscaping projects! This may sound cheesy, but it is absolutely accurate to say that Local Roots will make your dreams come true! Their work is professional, custom, and of high quality. They will give you exactly what you want AND make suggestions to even improve upon on your ideas. Most of all, they are TRUSTWORTHY and of high character, which is hard to find these days. Highly recommend this five-star company.
- Catherine Agate
Local Roots Landscaping sets the bar high in the Pittsburgh area and delivers high quality workmanship. In working with their team, my experience has been nothing but awesome! If you are thinking about doing any type of updates or new outdoor areas, they are who you want doing the work!
- Nina Andaloro
Pictures say it all! Could not be happier with the outcome. Never thought I would be proud of the front of my house with how it looked before but now I love showing it off! Fantastic company and employees! Highly recommend.
- Dan Wisniewski
Local Roots has changed the way our house looks and feels by elevating our landscaping to the max! The crew is super friendly and professional and they really went the extra mile on cleaning things up. Would highly recommend to anyone looking for some help on landscaping design and execution. 10/10 experience.
- Kendall Hannan
Local Roots has very knowledgeable staff that complete the job well. They have been very punctual, communicate well before and after any job, and always leave a site looking at it's best. I have had many jobs completed by landscape companies that send people out to complete a job without any plant knowledge, and believe me its shows - Local Roots has trained staff that excel in their work and make sound and smart decisions when completing any job. Highly recommend!! The owners are really nice, smart and motivated guys as well - definitely give them a call for any landscape work you need!
- Marah Vecenie
Work We're Proud
to Put Our Name On
Find your own landscaping inspiration in our portfolio. Imagine stepping into incredible spaces like these and calling it your own:
Our Proven Process for
Beautiful Landscapes and Satisfied Clients
With years of experience behind us, we've streamlined our process to make every landscaping project simple and enjoyable for you. Here's what you can expect when you work with us on a design-build project:
Lay the Groundwork

Book your consultation through our online scheduling system directly with our designers at a time that works for you. The designer will determine whether you need a design (and can proceed to the next steps) or if we can skip that phase and put your project on the schedule right away.

Fill out the questionnaire at least 48 hours prior to your scheduled site visit. This gives the designer more information about what you're looking for and will help you and the team make the most of the on-site visit.

Create Your Plan

Your designer will arrive on time and will take a few photos and measurements, and discuss your vision for the space (Design packages are $85 per hour/$3,000 project minimum). Within 48 hours of the visit, your designer will be in touch with the design cost and to schedule a date for the project presentation where they will present a high-level plan for your project. You'll also receive a rough estimate for both the cost and the timeline of the project. When you're ready to move forward, you'll sign the agreement, pay your deposit, and be added to our schedule.

You'll receive all the details of your design concept along with a complete project budget and timeline.

Project Underway

You'll enjoy one point of contact with a dedicated project manager and crew throughout your project. They will work safely and efficiently from 8:00-5:00 on business days, keeping you up-to-date on their progress, and any time that you have questions or concerns.

Project Wrap-up

When your project is complete, your project manager will do a final walk-through with you and make sure all items in the punch list are documented and that we follow-through on completion of the items. At this point we will invoice you for the remaining balance and if you're willing, request that you submit a review through our website.
Free Resource
Season To Season Landscape Guide
Each season in our guide includes and overview of what to expect, along with a checklist for you to utilize every season as you are working outside and getting your hands dirty.
Proudly Serving
Pittsburgh, Pennsylvania as the Premier Choice Among Landscaping Companies
Your Career With Us
is More Than a Job
If you're an experienced landscaping professional with a desire to build a career with the area's best landscaping company, we'd love to hear from you. We also love training individuals with little to no experience, but who have a passion for the industry and a willingness to learn! With a people-focused work environment, the area's top industry pay, and plenty of opportunities for education, training, and advancement, we're creating a great place to work as we create Pittsburgh's most beautiful landscapes. Visit our careers page to see our available positions and apply today.
Contact Us to Get Started On Your
Landscaping Project
Your landscaping vision is within reach. With attention to detail, a highly-trained and certified team, and the finest materials and craftsmanship, we bring your ideas to life. Contact us to learn more about our comprehensive landscaping services, including the design, installation, and maintenance of patios, pools, decks, walkways, retaining and decorative walls, outdoor kitchens and built-in grills, sod and turf, and so much more. We look forward to meeting you.